Description
The PROFIBUS-Tester V5 is a powerful diagnostic and troubleshooting tool for testing the cables, measuring the signals and analyzing the communication of PROFIBUS networks. Battery-powered and with an integrated graphical display it allows direct display of measurement results in stand-alone mode. In addition, the PROFIBUS-Tester V5 supports the export of test results for advanced analysis.
Measuring functions
Cable- and Signal test
Analysis of bus physics, communication
Protocol and frame analysis
Storage oscilloscope
Topology-Scan
Long-term trend
Live-Status of all bus devices
Operating in stand-alone mode the PROFIBUS-Tester V5 immediately gives an overview of the cable (segment length, unwanted reflections, bus termination…), the bus status and the signal quality. The cable test provides a detailed failure description and an estimation of the distance between failure and test location.
Special features
Graphical display
Built-in battery for stand-alone operation
Network status assessment at the push of a button (also continuous measurement)
Extended PC-based diagnostics
Generation of detailed test reports describing the actual status of the PROFIBUS network
Easy to use for less experienced users as well as for specialists

PROFIBUS-Tester V5: sample configuration for measuring
The PROFIBUS-Tester V5 allows full testing of live PROFIBUS segments with minimum influence on their operation. The integrated master simulator allows bus testing, even if the PLC is currently not in operation. Also single "suspicious" bus devices can be checked.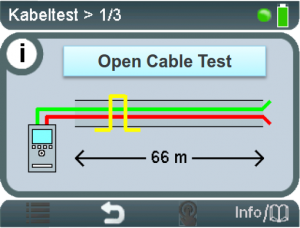 PROFIBUS-Tester V5: Measurement result on integrated LCD display
For long-term tests PROFIBUS-Tester V5 can remain stand-alone at the measuring location without PC. The tool reliably detects and analyses even transient faults that occur only sporadically.The PROFIBUS-Tester V5 helps to save commissioning time. In addition, regular preventive tests ensure continuous reliable operation and increase plant availability. However, if a problem occurs, PROFIBUS-Tester V5 will locate the reason quickly and reliably. Unplanned system downtimes will be minimized. The included software "PROFIBUS Diagnostics Suite" creates test reports of the current status of the PROFIBUS system in no time. The "oscilloscope function" allows an informative oscilloscope display even in stand-alone mode without a PC.

PROFIBUS-Tester V5: convenient analysis with the "PROFIBUS Diagnostics Suite"
The included software "PROFIBUS Diagnostics Suite" allows the visualising and detailed analysis of measurement results on the PC.
Device and software are easy to operate. So even less experienced users can achieve excellent measuring results.

PROFIBUS-Tester V5: Stand-alone operation possible thanks to battery and display
Scope of delivery (part.-no. APT5005E)
PROFIBUS-Tester V5
Wide-range power supply for Europe and USA
D-sub PROFIBUS adapter cable
USB cable
Terminal block for trigger input/output
"Getting started" guide
PC-Software "PROFIBUS-Diagnostics Suite"
User manual
Practical aluminum case
Incl. license oscilloscope-function

PROFIBUS-Tester V5: practical aluminium case included
Technical features
Diagnosis
Protocol- and Frame-Analysis:
PROFIBUS DP-V0 and DP-V1, automatic baudrate detection in the range of 9.6 kBit/s .. 12 MBit/s
Signal-Analysis:
PROFIBUS DP-V0, DP-V1, FMS and MPI; signal quality index 0 .. 5,000, determined from signal waveform, signal/noise ratio and rise time; signal sampling with 8/16 samples per bit
Oscilloscope:
Test range: ±5 V at 10 mV resolution (differential), 0 V .. 15 V at 15 mV resolution (A or B to DGND); sampling rate: up to 384 Msamples/s; sampled points: 2,400 (signal details), 8,192 (oscilloscope analysis)
Topology Scan:
Active, maximum distance: 230 m, accuracy: ±2 m
Cable Test:
Active, supported cable segment length:
5 m .. 1,500 m, accuracy: 5 %
Internal Memory Capacity
3 user-definable network directories (segment and test location) for storing quick tests, trend logs and cable test results, trend logging: max. 99 hours
Trigger
IN: L = 0 V .. 0.8 V; H = 2.4 V .. 24 V; pulse > 10 μs, active high; OUT: approximately 5 V, active low (connection to storage oscilloscope)
Connectors
PROFIBUS D-sub connector, 9 pins, power supply for external bus termination, USB V 2.0, high speed 480 Mbit/s, galvanically isolated
Power Supply
Built-in battery or 24 VDC or external AC adapter 100 VAC .. 240 VAC, 50/60 Hz with mains cable Europa / USA
Dimensions
H x W x D: 35 x 220 x 110 mm
Weight
Tester w/o cable: approximately 0.75 kg; complete carrying case: approximately 4.2 kg
Operating/Storage Temperature
Operating temperature 0 .. 50 °C
Storage temperature -20 .. 70 °C
Air humidity 10 .. 90 % without condensation
Conformity
CE, FCC, VCC
Download | PROFIBUS-Tester V5
| Description | Type | Download |
| --- | --- | --- |
| Data sheet PROFIBUS®-Tester V5 | | |
Description

The PROFIBUS-Tester V5 is a powerful diagnostic and troubleshooting tool for testing the cables, measuring the signals and analyzing the communication of PROFIBUS networks. Battery-powered and with an integrated graphical display it allows direct display of measurement results in stand-alone mode. In addition, the PROFIBUS-Tester V5 supports the export of test results for advanced analysis.

Measuring functions

Cable- and Signal test
Analysis of bus physics, communication
Protocol and frame analysis
Storage oscilloscope
Topology-Scan
Long-term trend
Live-Status of all bus devices

Operating in stand-alone mode the PROFIBUS-Tester V5 immediately gives an overview of the cable (segment length, unwanted reflections, bus termination…), the bus status and the signal quality. The cable test provides a detailed failure description and an estimation of the distance between failure and test location.

Special features

Graphical display
Built-in battery for stand-alone operation
Network status assessment at the push of a button (also continuous measurement)
Extended PC-based diagnostics
Generation of detailed test reports describing the actual status of the PROFIBUS network
Easy to use for less experienced users as well as for specialists



PROFIBUS-Tester V5: sample configuration for measuring

The PROFIBUS-Tester V5 allows full testing of live PROFIBUS segments with minimum influence on their operation. The integrated master simulator allows bus testing, even if the PLC is currently not in operation. Also single "suspicious" bus devices can be checked.


PROFIBUS-Tester V5: Measurement result on integrated LCD display

For long-term tests PROFIBUS-Tester V5 can remain stand-alone at the measuring location without PC. The tool reliably detects and analyses even transient faults that occur only sporadically.The PROFIBUS-Tester V5 helps to save commissioning time. In addition, regular preventive tests ensure continuous reliable operation and increase plant availability. However, if a problem occurs, PROFIBUS-Tester V5 will locate the reason quickly and reliably. Unplanned system downtimes will be minimized. The included software "PROFIBUS Diagnostics Suite" creates test reports of the current status of the PROFIBUS system in no time. The "oscilloscope function" allows an informative oscilloscope display even in stand-alone mode without a PC.


PROFIBUS-Tester V5: convenient analysis with the "PROFIBUS Diagnostics Suite"

The included software "PROFIBUS Diagnostics Suite" allows the visualising and detailed analysis of measurement results on the PC.

Device and software are easy to operate. So even less experienced users can achieve excellent measuring results.


PROFIBUS-Tester V5: Stand-alone operation possible thanks to battery and display

Scope of delivery (part.-no. APT5005E)

PROFIBUS-Tester V5
Wide-range power supply for Europe and USA
D-sub PROFIBUS adapter cable
USB cable
Terminal block for trigger input/output
"Getting started" guide
PC-Software "PROFIBUS-Diagnostics Suite"
User manual
Practical aluminum case
Incl. license oscilloscope-function


PROFIBUS-Tester V5: practical aluminium case included

Technical features

Diagnosis
Protocol- and Frame-Analysis:
PROFIBUS DP-V0 and DP-V1, automatic baudrate detection in the range of 9.6 kBit/s .. 12 MBit/s
Signal-Analysis:
PROFIBUS DP-V0, DP-V1, FMS and MPI; signal quality index 0 .. 5,000, determined from signal waveform, signal/noise ratio and rise time; signal sampling with 8/16 samples per bit
Oscilloscope:
Test range: ±5 V at 10 mV resolution (differential), 0 V .. 15 V at 15 mV resolution (A or B to DGND); sampling rate: up to 384 Msamples/s; sampled points: 2,400 (signal details), 8,192 (oscilloscope analysis)
Topology Scan:
Active, maximum distance: 230 m, accuracy: ±2 m
Cable Test:
Active, supported cable segment length:
5 m .. 1,500 m, accuracy: 5 %
Internal Memory Capacity
3 user-definable network directories (segment and test location) for storing quick tests, trend logs and cable test results, trend logging: max. 99 hours
Trigger
IN: L = 0 V .. 0.8 V; H = 2.4 V .. 24 V; pulse > 10 μs, active high; OUT: approximately 5 V, active low (connection to storage oscilloscope)
Connectors
PROFIBUS D-sub connector, 9 pins, power supply for external bus termination, USB V 2.0, high speed 480 Mbit/s, galvanically isolated
Power Supply
Built-in battery or 24 VDC or external AC adapter 100 VAC .. 240 VAC, 50/60 Hz with mains cable Europa / USA
Dimensions
H x W x D: 35 x 220 x 110 mm
Weight
Tester w/o cable: approximately 0.75 kg; complete carrying case: approximately 4.2 kg
Operating/Storage Temperature
Operating temperature 0 .. 50 °C
Storage temperature -20 .. 70 °C
Air humidity 10 .. 90 % without condensation
Conformity
CE, FCC, VCC

Download | PROFIBUS-Tester V5

| Description | Type | Download |
| --- | --- | --- |
| Data sheet PROFIBUS®-Tester V5 | | |